List of Top 5 Star Hotels for a Luxury Stay in Muscat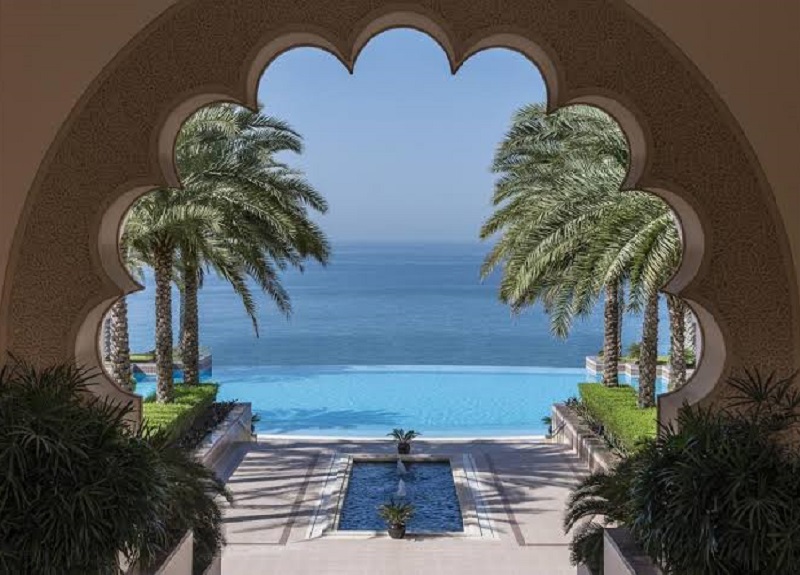 When you're searching for a list of the top 5 star hotels in Muscat many names will crop up, however, today we are bringing you the ultimate list of all the best luxury hotels and resorts in Muscat.
Al Bustan Palace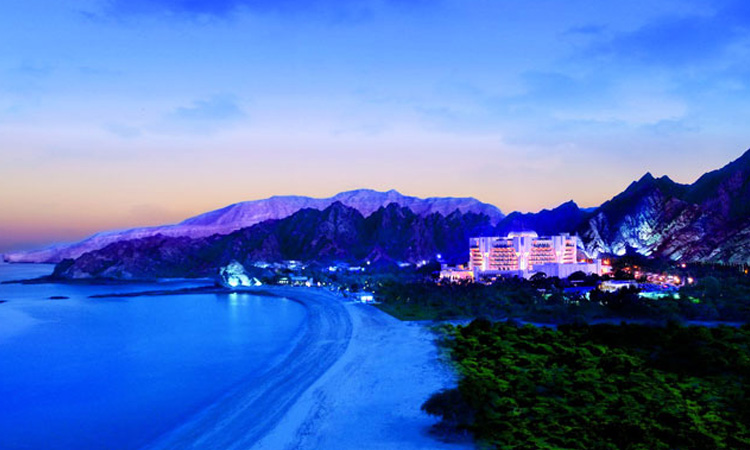 Currently being managed by the Ritz-Carlton group, this hotel is set in an erstwhile palace and located on the most beautiful stretch of beach in and around Muscat. Positioned just so, between the towering Al Hajar mountain range and the Sea of Oman, Al Bustan Palace's Arab and art deco influences infuse it with an elegant ambience, the most notable of which is its majestic 38 metres high domed atrium lobby. Each of the hotel's 250 guest rooms and suites' private balconies offers magnificent mountain, sea or garden views. A phenomenal Six Senses Spa was added to the hotel and built into the surrounding landscape of towering stone and rock cliffs and the resort provides excellent facilities for children like the outdoor playground and daily activities so you needn't feel guilty while indulging yourself at the spa. The three onsite restaurants and two bars supply guests with plenty of delicious dining options. Afterwards, you can stroll through the over 200 acres of exquisite gardens with immaculately manicured lawns and palm trees, which has plenty of places to just sit back and relax with the numerous sun lounges, hammocks and cabanas that are scattered through the gardens, and along the edge of the beach. If vacationing amid one of the most beautiful beaches in Oman, in an absolutely exclusive setting is what you want, then Al Bustan Palace should definitely be on your list.
Read More About Al Bustan Palace
The Chedi Muscat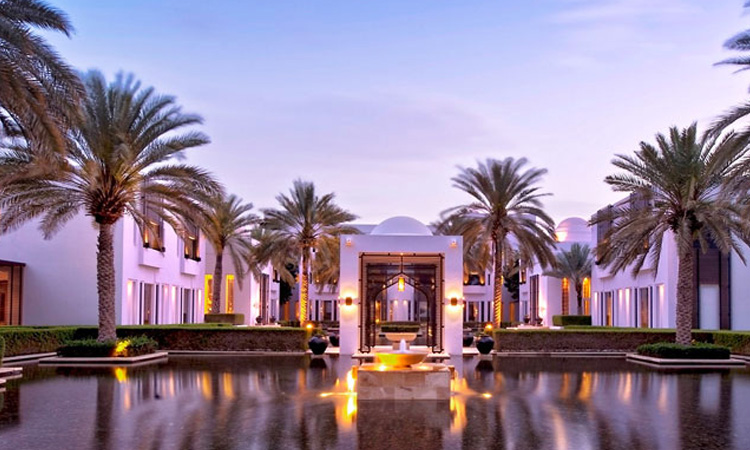 Noted to be among the most elegant and stylish resort in the greater Muscat area, the resort has 3 magnificent pools, some of the best fine dining venues of all resorts in Oman.
The Chedi Muscat is blessed with a spectacular beachfront location right in the heart of Muscat, and its minimalist design and timeless decor where contemporary modernism contrasts tastefully with traditional Arabian architecture makes for a lovely stay. This is further enhanced by the 21 acres grounds that surround where white exterior pavilions blend into the lush date palm gardens, and the maze of reflecting pools, falaj-inspired waterway, gorgeous fountains, and Moorish-style courtyards delight you at every turn with the gardens being lit up with candles and rope-lights at night. This muscat resort features one of the largest spa facilities in Muscat and also boasts of 3 separate pool areas. One located in the gardens, one along the beach, with a view of the often spectacular waves, and the 103-metre dramatically dark tiles Long Pool, which is located in front of the spa. The latter two are adult-only areas making for an enjoyable stay for couples without children. The multiple poolside cabanas, the fine dining restaurant, a beach restaurant and a romantic beachfront patio, all offering a variety of excellent options in international cuisines combine with the resort esthetics make this beach resort in Muscat a must-visit.
Read More About The Chedi Muscat
Shangri-La Al Husn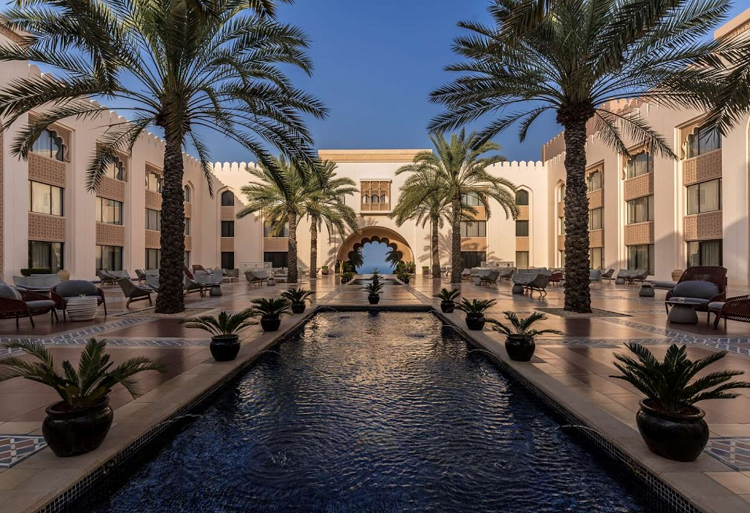 This gorgeous 5-star hotel in Muscat incorporates Arabian elements into a contemporary resort which has a lovely coastal cliff setting. Shangri-La Al Husn a kids-free resort is one of the three resorts along with Al Waha (Oman's first dedicated family hotel), and Al Bandar, that is part of the Shangri-La Barr Al Jissah Resort and Spa. Situated against the dramatic backdrop of the mountains and the Gulf of Oman, Shangri-La Al Husn is set by a secluded cove on a magnificent stretch of undeveloped, rocky coastline, where sandstone cliffs meet clear blue water. While Al Husn's exterior is inspired by historic Omani forts, its interiors have a much more opulent palatial vibe. The high-ceilinged lobby featuring simple elements of classic Islamic architecture leading to a dome that is covered in gold leaf, beautiful hallways, lined by water and bird statues, leading to a tranquil lounge. The humongous courtyard where the daily tea, cocktails and canapes are served, leads down to Al Husn's large swimming pool, which overlooks the Gulf of Oman and is surrounded by date palms and comfortable sun loungers.
It is Shangri-La Al Husn daily cocktails, adult-only private beach coves that extends to well over 100 meters and palatial surroundings which makes this 5-star resort in Muscat ideal for couples and honeymooners looking to get a break from the family crowds. The hotel also shares other facilities with its sister hotels and you can head over to the massive sprawling parts of this huge beachside resort in Muscat to explore its other facilities. You have access to close to 20 restaurants which serve a plethora of appetising options from a variety of cuisines to suit your cravings. All in all, whatever type of stay you are searching for you will find it at this spectacular resort in Muscat.
Read More About Shangri-La Al Husn
W Muscat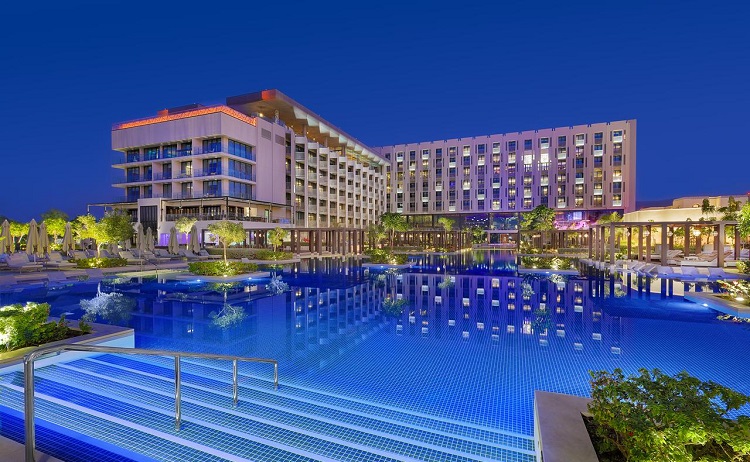 This beachfront hotel in Muscat is situated at the intersection of the bustling Shatti Al Qurum area where the Al Hajar Mountains stand in contrast to the lively waterfront. The hotel, launched in 2019 has reinterpreted Omani design and cultural traditions to create a modern, energetic and stylish escape that is in line with their signature take on playful luxury.
Guests will be struck by the 10 meter tall steel frankincense tree sculpture as they enter the hotel before they venture into the 'Living Room', where check in formalities take place.
The 1800 sqm beachfront pool offers breathtaking views of the Gulf of Oman and the hotel's signature AWAY Spa offers exclusive treatments, a steam room, a hammam, a couples' treatment room, and a Beauty Bar for quick-fix treatments. Guests can also head to FIT, W'S unique take on fitness, which boasts incredible sea views, and state-of-the-art equipment. Foodies will be delighted as the hotel has a lot of exciting dining options for guests to try ranging from locally harvested and produced food offerings to lounges, bars and international fine dining.
Kempinski Hotel Muscat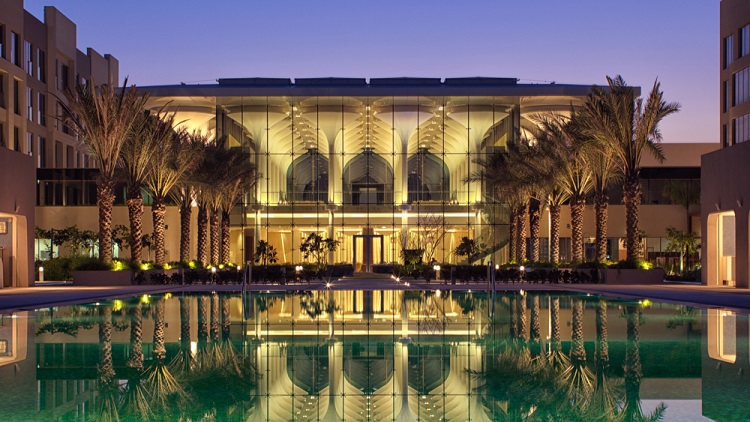 Spread over six kilometers of breathtaking coastline, this stunning Muscat hotel draws from Omani heritage and its typically Kempinski vibes to create a fantastic stay in the capital. With towering pillars, and dappled sunlight filtering through the lobby, that leads to the hotel's sprawling grounds with 'falaj' inspired water-features- Everything from the lantern designed ballroom to the rooms seamlessly exudes modern styles while retaining the traditional charm.
Guests have the option to head to one of two pools, the kids pool or the spa or health club to induge themselves during their stay at the Kempinski. As for food, there are ten separate food and beverage outlets at the Kempinski, which offer everything from classic Middle Eastern and Western-style cuisine at The Kitchen, to trying a modern take on traditional Indian food at Bukhara, to sampling some vibrant Thai street food at Soi Soi, and devouring the deli treats at Cafe One. The hotel itself offers plenty of off-site adventure and leisure experiences, including stand-up paddleboarding, windsurfing, wakeboarding and sailing in a catamaran, all of which take place just off the Kempinski's slice of idyllic beach frontage. The hotel can organise everything from snorkelling trips to the Dimaniyat Islands, to short excursions into the city.
When luxury combines with professional service, modern facilities, and plenty of leisure activities it is no wonder that this hotel makes it to our list of the top 5 Star hotels in Muscat.
Read More About Kempinski Hotel Muscat
The Grand Hyatt Muscat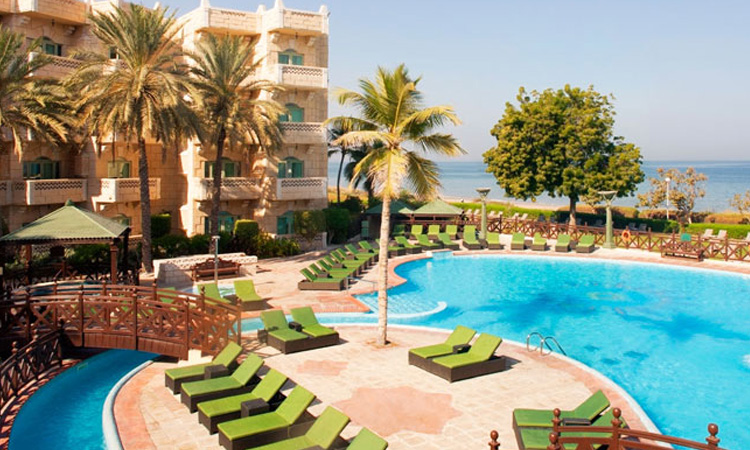 Situated along the beach in Muscat's diplomatic district of Shatti Al Qurum, this hotel is a great option for business, luxury and leisure travelers as it is a short drive from popular tourist attractions. The lobby has outdoor plaza vibes with numerous palm trees and a marble fountain in the center with a rotating statue. There is an enormous stained glass window overlooking the pool, an exotic grand piano for live music, and cozy seating areas under luxurious Bedouin tents for afternoon tea. This spectacular Muscat hotel has a large pool with a swim-up bar, lazy river, jacuzzi, kids splash pool, and garden area as well as beach access on the Arabian Sea. Guests can head to the tennis courts to play a couple of shots or head to the Club Olympus Fitness Center which has a nice selection of cardio and strength-training equipment along with saunas, steam rooms, and jacuzzis. The Grand Hyatt Muscat has several restaurants and bars, ranging from a casual poolside bar, to sports bars to Omani and international fine dining restaurants.
Read More About The Grand Hyatt Muscat
InterContinental Muscat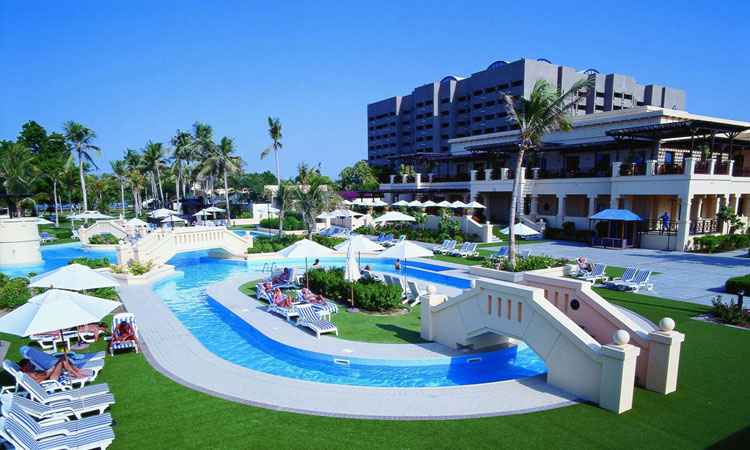 Spread across the more than thirty acres of lush foliage covered palm gardens, and set between the sands of the Gulf Coast and the Hajar Mountains, the InterContinental Muscat is located right in the heart of Oman's capital. The interiors are charming and impressive in turn with the lobby area a soaring, seven level, open atrium with a Bedouin inspired tent in one corner and glass elevators in the center of the lobby. Among the many shops and bars on the ground floor, is included an Irish pub and a bakery, which offers scrumptious pastries. The hotel has a centrally located 25-metre olympic size pool and a second lagoon-shaped pool, with bridges and fountains within it situated in the gardens. This 5 star hotel in the heart of Muscat also has two floodlit tennis courts,a fully equipped gym, sauna, and a jacuzzi. With its comprehensive array of leisure facilities and its central location, the hotel is a favorite with business and leisure travellers alike.
Read More About InterContinental Muscat